Know what's happening in the Church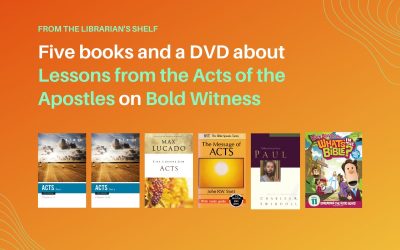 This year, as our church focussed on the theme of Being a Bold Witness, the pastors preached a sermon series about the Acts of the Apostles and the lessons we all can learn about being bold witnesses. Look for these 5 books/DVD from the church library to continue learning more about the book of Acts and the amazing power of the Holy Spirit who enables us to be bold witnesses.
Check out the upcoming events in our Church
Project 5 Loaves & 2 Fishes is a community event where we invite our neighbours to come by the church to pick up food and essential household items that they might need.
Date: Saturday, 18 Feb 2023
Time: 12pm to 3pm
At some point in life, each of us will experience grief, and everyone grieves differently. How do we handle our grief and how can we journey with someone experiencing grief?
Date: Saturday, 25 Feb 2023
Time: 2pm to 4.30pm
It is advised that you complete this course at least one year before your wedding date.
Dates: Saturdays, 4 to 25 Mar 2023
Time: 2pm to 6pm
Not just endure the suffering that comes your way, but do even more – rejoice! Join our Women's Bible Study on 1 Peter and learn from the apostle Peter how a believer can do this.
Dates: Saturdays, 4 & 25 Mar, 15 & 29 Apr, 6 & 20 May 2023 (6 lessons)
Time: 10am to 11.30am
The Sacrament of Baptism for Infants and Children will be held on Easter Sunday, 9 Apr 2023, at the 10am Worship Service.
If your child was born in 2021 or 2022, it's time to register him/her for Little Blessings. Little Blessings is for children ages 1 to 4.