Know what's happening in the Church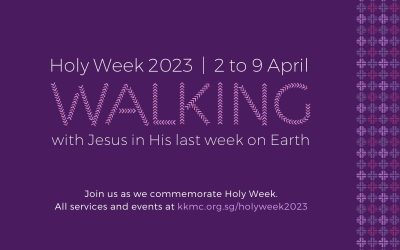 This Holy Week, join us as we walk with Jesus on His last week on Earth. We follow the events through the Gospel of Luke starting on 2 April, Palm Sunday. We pray that the walk will compel us to desire the presence of Christ more intensely so that Together We Grow to...
Check out the upcoming events in our Church
Join Methodist Schools' Foundation (MSF) for a fun day of fellowship and get-together for a great purpose with our Methodist schools and Methodist churches.
Date: Saturday, 25 Mar 2023
Time: 7am to 10am
This session outlines 4 cultural narratives that are prevalent in our culture today and contrast them against the gospel narrative that provides the true answer to man's search. We will explore together the identity, freedom, happiness, and morality narratives and seek to use them to build a bridge to the gospel narrative of Jesus Christ.
Date: Saturday, 25 Mar 2023
Time: 9.30am to 11.00am
At YA KKonnect, the KKMC young adults (aged approximately 19 to 35 years old) will be studying the book of Nehemiah. The theme is Rebuild, where the focus is on our call, challenges, community and commitment. There will be time for large group sharing, personal reflection and breakout group discussions in each session.
Dates: Saturdays, 25 Mar, 15 Apr, 6 May 2023
Time: 3pm to 5.30pm
Easter is a time when we celebrate our Risen Lord, Jesus Christ. We can bring the Easter joy to elderly residents of SCH during this visit where we will be singing songs, playing games, and getting to know them.
Date: Saturday, 1 Apr 2022
Time: 9.30am to 11am
This year we will be having a combined Dedication and Enrolment service on Saturday 8 April, 10am, for our 2nd BB company (Victoria School), 60th BB company (Raffles Institution), and 45th GB company (Raffles Girls' School). You are invited to join this service to show your support for our BB and GB companies.
Date: Saturday, 8 April 2023
Time: 10am (Please be seated by 9.45am)
The Sacrament of Baptism for Infants and Children will be held on Easter Sunday, 9 Apr 2023, at the 10am Worship Service.