Know what's happening in the Church
To:MEMBERS OF THE LOCAL CHURCH CONFERENCEKampong Kapor Methodist Church Dear Members of the Local Conference, Please be informed that the Special Session of Local Conference of the Church (which will be followed immediately by the Special Session of LCEC...
Check out the upcoming events in our Church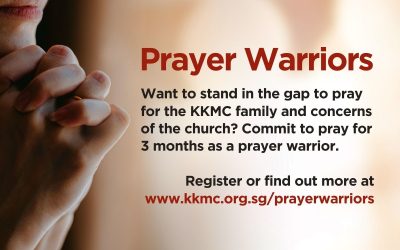 Want to stand in the gap to pray for the KKMC family and concerns of the church? Commit to pray for 3 months as a prayer warrior.
Malachi is the last prophetic voice we hear in the Old Testament before God ushers in the new covenant. Through the prophet, God challenges us to check our spiritual walk yet assures us of His everlasting love.
Dates: Thursdays, 21 & 28 Sep, 12 & 19 Oct 2023 (4 sessions)
Time: 7.30pm to 9pm
Every believer can learn how to evangelise practically, naturally, and personally. We are delighted to have Rev Irene Thung lead this workshop!
Date: Saturday, 30 Sep 2023
Time: 1pm to 4pm
TRAC Board of Worship & Music (BOWM) is excited to have CityAlight of St Paul's Castle Hill (Sydney, Australia) to be part of this year's In-Deep Worship Conference.
Date: Saturday, 30 Sep 2023
Time: 7pm
The upcoming church prayer focus is on the church's future and for our leaders. Come to Church Prayer Time on the first Wednesday at 8pm to pray!
Date: Wednesday, 4 Oct 2023
Time: 8pm to 9.30pm
We continue our journey in Psalms with David, who penned Psalm 4 to 8. Through David, we embrace our God who hears our prayers (Ps 5), who delivers us in our times of need (Ps 6), who is our shield and righteous judge (Ps 7), and who is majestic in all the earth (Ps 8).
Dates: Sundays, 8 & 22 Oct, 12 & 26 Nov 2023 (4 sessions)
Time: 11.30am to 12.30pm