Formerly known as the WSCS Hi-Tea, this annual event is held to foster closer ties with the women members of KKMC and for them to invite their pre-believer friends or non-WSCS friends to an enjoyable afternoon tea and have fellowship with Christian women. It was also an opportunity to introduce WSCS' purpose, missions and activities. To reflect KKMC's Peranakan Heritage, the event is now called Makan and Cakap-Cakap.
Ladies started to stream into the Social Hall as early as 1:30pm on 18 March 2023, the Saturday afternoon KKMC WSCS held Makan and Cakap-Cakap. All were excited and looking forward to an afternoon of fun activities, informative talk on financial tips unique to women, good food and Christian fellowship.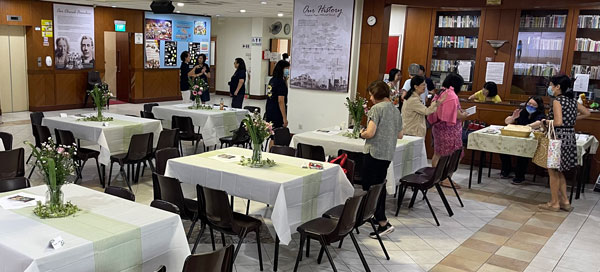 The ladies were warmly greeted at the welcome table by Mrs Angela Lee and Mrs Lynette Lim. Everyone was presented with a welcome gift set of a tea towel, teabags and MRT card case. These gifts were generously donated by KKMC WSCS and its members. Soon, lively 'cakap-cakap' conversations filled the Social Hall from the ladies seated at 6 beautifully laid tables.
Mrs Annie Chin, KKMC WSCS President, welcomed all present and commenced with a prayer. To kick-start the event, Mrs Mary Gan coached the ladies in a line dance, dancing to the song 'Livin' on Love' and 'Beautiful Sunday'. There was laughter all around as we gamely followed Mrs Mary Gan in step to the music.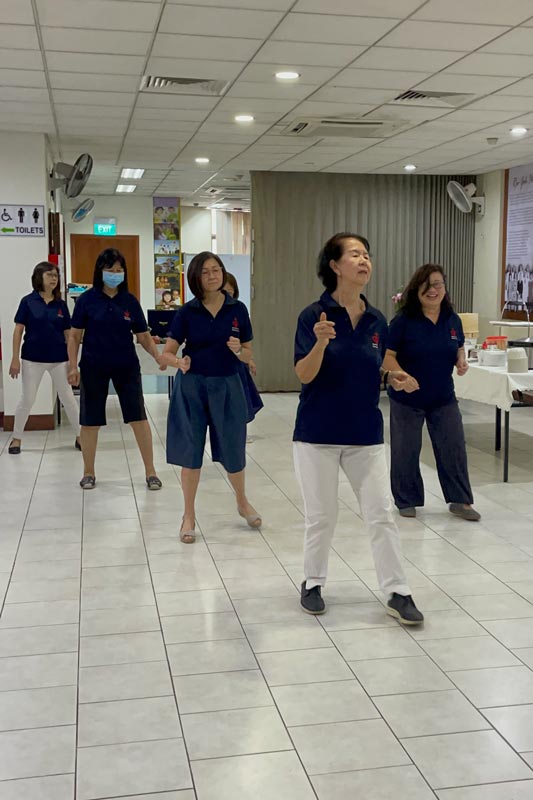 After that lively warm-up, the ladies settled back in their seats and were introduced to Ms Goh Poh Gek, a retired Fellow Member of the Association of Chartered Certified Accountants. Ms Goh Poh Gek shared her knowledge on CPF and Cash Flow Management with the ladies. To help the ladies apply what they had learnt, they examined several case studies of different age groups and work out solutions for the challenges faced in each case study. The ladies found the information useful and empowering.
Everyone had been looking forward to the 'makan' and they were not disappointed by the generous layout of home-cooked food. There were chicken pies, spring rolls, mini steamed paus, lontong and pie tee. And in keeping with Peranakan tradition, there was delectable kueh dadar, kueh kosui, rainbow kueh, pulut hitam and almond jelly. And of course, coffee and assorted tea and Speculoos biscuits to complete the afternoon tea experience.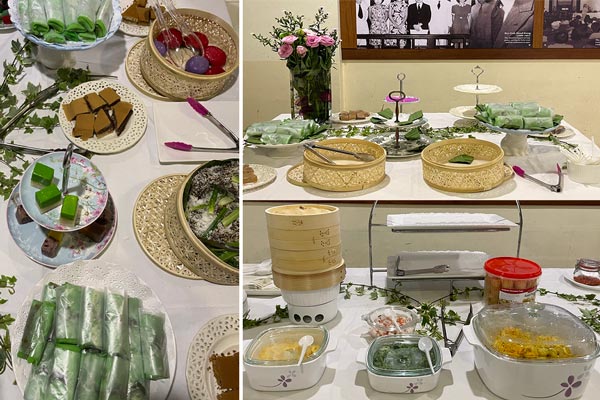 To wrap up the event, Mrs Mary Gan led the ladies in another line dance which helped us to burn some calories. It was an enjoyable afternoon for all.
What a few ladies had to say:
"The dance was fantastic! Food was marvellous, I missed the pulut hitam!"
"This is my first time attending and I'm very happy. The food was excellent, and a good spread was provided. I'm overall very satisfied."
"The talk was helpful."
"My favourite part was being able to interact and get to know the ladies better."
With heartfelt appreciation to the following ladies for their contribution of food and gifts: Mrs Jennifer Tan, Mrs Annie Chin, Mrs Angela Lee, Mrs Maureen Fong, Mrs Mary Gan, Mdm Lau Kan How, Mrs Lynette Lim, Mrs Vivian How, Mrs Patsy Low and Ms Wati, Mrs Tan Seok Eng
We give thanks to God for the good turnout and the wonderful fellowship. To God be the glory.