Juliet Yong, a Young Adult from KKMC shares what it is like to be a child of missionary parents, from mission work and sharing the gospel to the expectations others have of her. Both her parents, Jodi and Chee Yee, are full-time missionaries with Cru Singapore (Cru), a Christian organisation which organises and manages missions, evangelism, and discipleship.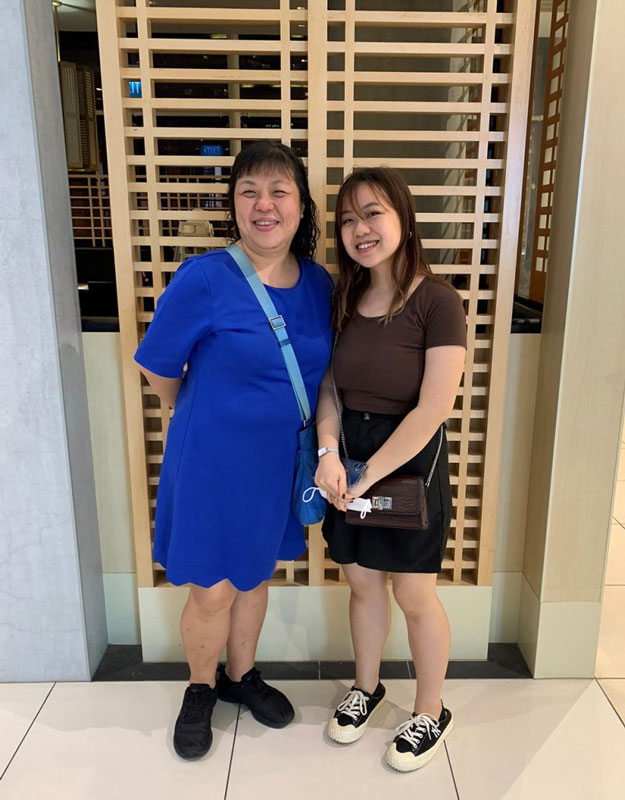 Mission Work as a Child
Juliet was just a baby when she was brought on mission trips by her parents. As far as she could remember, the seeds of Juliet's mission work started when she was in primary school when she was involved with her mother's missions. She has been on two mission trips to Taiwan with her mother, giving out Bibles to spread God's word. The first trip was a two-family three-generation mission trip with her mother as the team leader; and the second was just with her mother and her brother Joseph who was a toddler at the time. From a young age, she recalls bravely approaching strangers along Orchard Road to give out evangelistic magazines during Celebrate Christmas in Singapore, a yearly event that spreads the message of Christ's birth.
Although her memories of the many family mission trips to Batam in Indonesia are hazy, Juliet has clear memories of a particular Christmas Party where she played a key role as an organiser and an emcee at the young age of twelve. Challenged by her mother to organise the event that year, Juliet recruited her friends, and together they managed the entire event from publicity and planning to execution. It was a large event organised by children, for children, to share the word of God. And it grew her love of doing God's work with children. Juliet's love for children developed through the years spent helping her mother with mission work which focused on mothers, and by extension, their children.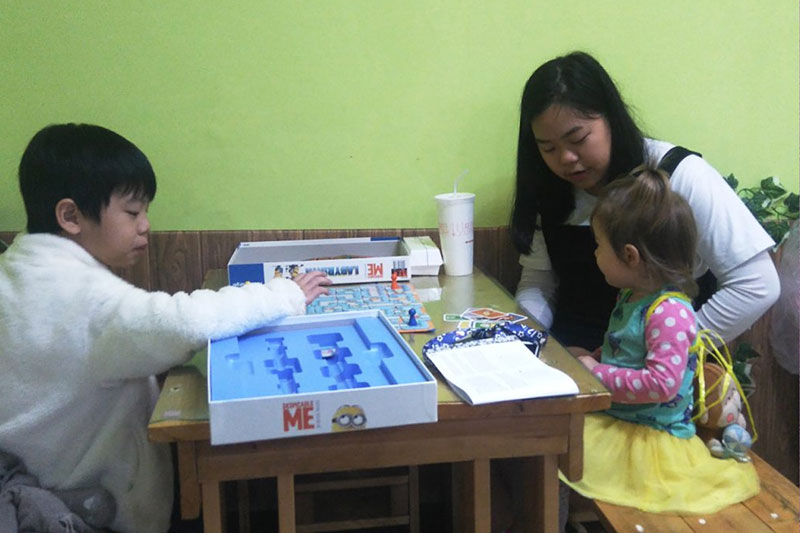 Love for Children
Juliet has just graduated and is about to embark on a career as an early childhood educator. Juliet previously helped with Little Blessings (KKMC's nursery-level Sunday school), and currently helps with Little Praisers and DiscipleKids, KKMC's Sunday school for kindergarteners and primary schoolers, respectively.
She attributes her career choice not only to being actively involved in mission work during mission trips from a young age, but also to the fact that she likes children. "I think it all started because I like kids. Every time my mum does something, it had something to do with kids, so I would be interested to participate. I enjoyed doing that and meeting the kids after."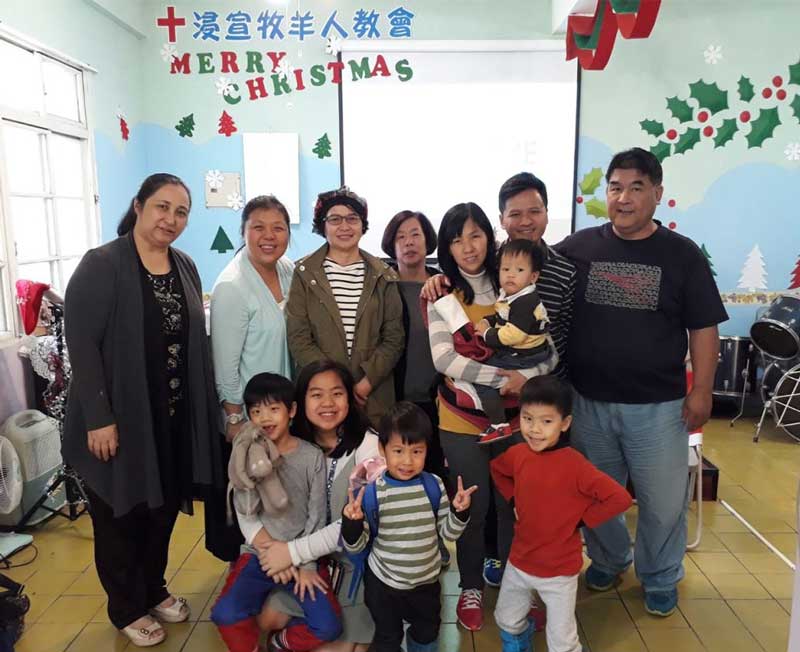 Sharing God's Word
Juliet's parents taught her and her brothers how to share Christ from a very young age in a simple way. Using their five fingers, each finger represented a key point of the Gospel which are (1) God loves me (black), (2) I have sinned (red), (3) Christ died for me (white), (4) If I believe (green), and (5) I will go to heaven (yellow). As it was essential for them to be fluent and fast when approaching people during outreach programmes, they would practice on each other as a family.
Juliet also learned to share the Gospel from her mother through craftworks, such as making the Colours of Christ bracelet where the colour of each bead represented a Biblical Truth. Juliet learnt how these craftworks relate to the Bible in a fun and approachable way, and have been invaluable in her work in the Children's Ministry.
Sunday School also taught Juliet a different way of sharing – "Everything was more personal, like sharing my testimony. Or making friends first then sharing God's love before the whole talk about [how] Jesus died for you."
Burdens of Being a Child of Missionaries
Growing up in a Christian family with parents who were full time missionaries and attending a Christian school, Juliet thought that sharing Christ was the norm for everyone. It was not until she was twelve that she realised that her friends were different. Juliet experienced many mini crises at that age. It was at that time when she realised that her natural response of "let's pray about it" was not an appropriate nor accepted response to her friends' problems. She also began to experience the high expectations that people had of her as a child of missionary parents and was at times, ashamed of the fact that her parents were missionaries.
She was expected to know everything about the Bible, to behave in a certain way and to always be a role model. In Church, she has felt the pressure of speaking her mind freely, or conversely, to stay silent when she had differing views. She also felt she had to openly agree with teachers even when she did not and was obliged to intervene when her peers argued or misbehaved. Even her testimony during the Primary 6 Lahu mission trip was expected to be more impactful, such that she had to edit it several times to the point that she felt it was no longer her testimony.
"It did often come with many expectations and burdens I did not enjoy carrying. I started to feel that I was not a good enough Christian if I could not match up to certain expectations or be like my parents. It also made me fear reaching out to people that were a different target audience from my parents."
Her mother, Jodi, knew what Juliet was going through during those times. "She's quite an open book and I appreciate that she shares. We journeyed with her and understood that she was stressed." Juliet had honest conversations with her mother about these issues. Her mother had asked her if she would prefer attending another church so that she would not feel the need to be stressed having to live under the shadow of her parents.
Juliet has mixed views about whether she would one day follow her mother's footsteps in being a full-time missionary.
Her mother, Jodi, joined Cru in her first year at polytechnic. Jodi's faith grew and she was introduced to witnessing, evangelism, and missions. A mission trip to Malaysia in her second year opened her eyes and, in her final year, feeling that becoming a missionary might be a waste of her education, Jodi asked God for guidance. "I did ask God a few questions and He answered me, so I was very sure." Upon graduating with a diploma in mechanical engineering, Jodi became a missionary with Cru at the age of 20.
Juliet says, "If I feel a calling, I will. But definitely not when I'm young, because even though I feel that everything about being a missionary has been good for my family, I do feel that it takes a lot of their time, and it seeps into personal life. I feel like this especially because my mom does ministry with family, so when she does ministry, it always affects our family."
Juliet recalled how she did not have a choice when her bedroom was used as a playroom for the children whenever her mother did ministry work at home. She also remembered how left out and upset her youngest brother felt on the Taiwan mission trip when their mother was busy with mission work. Although she was ten years older than him, she could not alleviate his distress because she was not mummy whom he needed. She said that if she were to answer the call one day in the future, it would be after she has a family, and her children are all grown up because "I don't think I want that for my kids."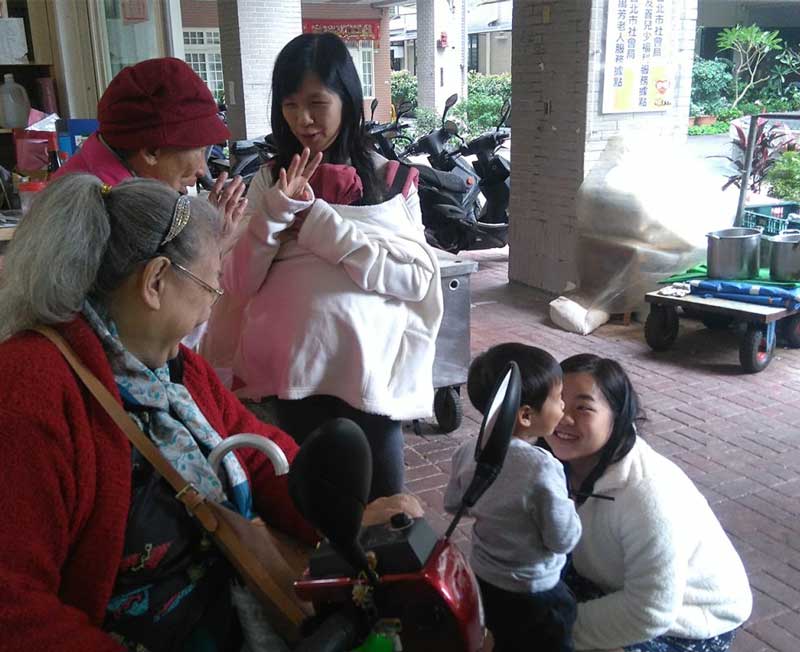 Finding Her Identity
Growing up in KKMC, Juliet was always "Juliet – Jodi's daughter" or "Juliet – Chee Yee's daughter", and never just Juliet. She church-hopped for a while in her teens but has since returned to worship at KKMC. She says several things prompted her decision to remain at KKMC.
Firstly, upon discovering that she was passionate about children, Juliet joined the Children's Ministry as part of the team that taught Sunday school to children 1 to 4 years old. "This was quite good for me as I got to see another side of the Church because the side that I got to see was always the youth side."
Secondly, she took her father's advice as he pointed out that she might experience problems even at the new church and suggested that she stay and try to do something about it instead of leaving. He said that this would be "more like what Jesus would do". She realised that disagreeing with certain things did not mean she had to find a new Church.
Thirdly, she has good friends in KKMC and a life group for support.
Receiving Christ
Juliet's acceptance of Christ was a gradual one because even though God had been in her life through her growing years, it was at the age of 16 that God really became real for her.
Juliet had struggled academically in primary school. No matter how hard she tried, she could not keep up academically. It was tremendously stressful, and she cried constantly. Although she was disappointed with her results having qualified for the Normal Academic stream instead of the Express stream that she was aiming for, it dawned on Juliet that it was alright because God had blessed her in many other ways.
As a young child, fitting in was important to her and she felt angry at God for making her life difficult. However, when she entered secondary school, she met a good group of friends who accepted her for who she was, and she realised that she did not have to try so hard to fit in. She stopped being angry with God over the one thing He did not give her – excelling academically – and became thankful for the many other things that he had given her. In school, God placed good teachers in her life to help her and good friends whom she prayed and attended cell group with.
Family Comes First
Being the second eldest of five siblings and the only sister to her brothers, Juliet has a strong sense of responsibility to her family. In the past, she would worry about her brothers returning to an empty home when her mother was out ministering.
However, work-life balance has improved over the years for her parents, thanks to Jodi pushing for flexi-work arrangements within Cru and her husband, Chee Yee, who worked in Human Resources at Cru, putting the policy and structure in place. It has benefitted not only Jodi and her family, but also the numerous mothers who work in the ministry. She can say of Cru as an organisation now, "It's very clear to us that family always comes first."
Juliet is thankful for the flexi work arrangement which has allowed her parents to spend more of their time with the family. With her mother home a lot more with the new arrangement, Juliet can now connect with her mother more. "I definitely agree that it's good that family comes first… I feel that everybody is just happier."
Lessons Learnt as a Child of Missionaries
Juliet has learnt many things from the different people she has met on the mission trips and outreach programmes she has participated in with her family, and also saw first-hand the extent of Christian work in different places. "Being able to share God's word is a blessing itself, those experiences will always be a blessing that I am thankful I was given."
Being a missionary is a unique career choice, one that is a calling from God. Juliet knows of the sacrifices and struggles that her parents have shared, and their efforts to be full time missionaries is always inspirational to her. Although her parents are her role models, she feels that God wants her to impact the world differently from them. "Their eagerness as missionaries to share God's love does not stop in their missions, this makes me confident to pursue things I feel strongly for since I know I am not alone."
Now an adult, Juliet appreciates the loving Christ-centred family her missionary parents have given her and how they have contributed to her personal Christian growth. Because of their knowledge on the bible and Christian teachings, Juliet always turns to her parents for answers and good advice, be it in situations she is facing or questions that she has about the faith. They have helped her clear her doubts and affirm her belief.
Juliet says of her parents, "I am and will always be proud of my parents' work. Their decision to be full time missionaries is driven by a strong passion and love for God which I have come to admire. As I matured as an individual and built my own relationship in Christ, I realised it was not a fight between God and I for my parent's attention but that we are one big family. Instead of being dependent on my parents, God was there for me, I could depend on Him too. I learnt how to cope and support my parents in their work while communicating my needs clearly. Because of how much I look up to my parents, sometimes I forget that they are learning too, together we could work things out. I can now be proud of my parents as missionaries, separately from being proud of being a missionaries' child."
(Photos courtesy of Jodi and Juliet Yong)
---
"Notes From The Field" is a series examining what God is doing in the mission fields. Read other stories in our Notes From The Field series.