Corporate Confession
Therefore confess your sins to each other and pray for each other so that you may be healed. The prayer of a righteous person is powerful and effective. (James 5:16 NIV)
How many of us actually willingly confess our sins to each other as James recommends?
It is easy to be convinced that the believing community is a fellowship of saints when its members are not open about their failures and shortcomings with one another. A false sense of perfection sets in when we think our friends are impervious to temptations. This sets off a vicious cycle which ultimately results in members living veiled lives within the community. How can such a community ever be authentic and personable?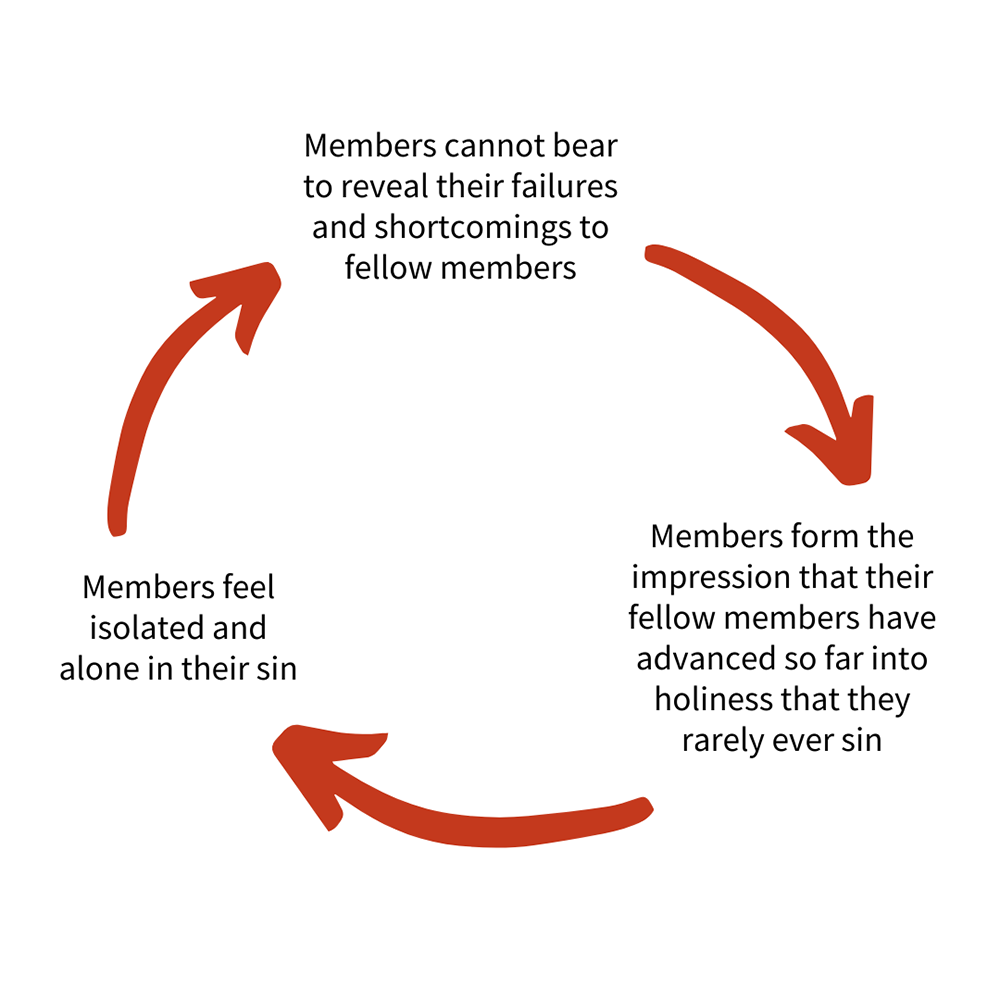 In truth, every Christian community is a fellowship of sinners, which is why corporate confession is so important. It is a humbling practice that reminds us we are not perfect, lest we think that we are self-sufficient or "not good enough" to be part of the church. When we are reminded of our identity as forgiven sinners, we remember that we are in no place to look at others with eyes of judgement.
Corporate confession nurtures a culture of accountability, which is beneficial for our spiritual life. Personally, I become more inclined to face up to my sins and begin on the arduous yet necessary process of working through them when I confess them to others.
As individuals who are used to private confession, the idea of corporate confession can be scary. BE Dr Wee acknowledges this, and suggests we start small by confessing our sins to just one other trusted individual. Ideally, this person should be a fellow believer who is loving but firm. Allow him or her to journey with you and trust that they will not condemn you.
Corporate Worship
God is spirit, and those who worship him must worship in spirit and truth. (John 4:24 ESV)
Worship sessions have always brought me great peace. But I have never really given much thought to why that is. Dr Wee's talk helped me to better understand this.
True worship begins in the spirit. When we are before God's Spirit, there is no place to hide. When we worship, we are invited to repent and receive healing from God. It is the time to see ourselves for who we really are. More importantly, it is when we see God for who He is; He accepts us in our weaknesses, restoring us and our relationship with Him.
In a world of highlight reels and gleaming surfaces, it is truly precious to be able to be still with God and be reminded of who I am, and who He is.
Worship is where the real you should be present, for the real God is going to be there. When God's Spirit touches ours, the benchmark for authenticity is set. Corporate worship lays the groundwork for the church community to experience authenticity together.
Worshipping God in the company of His people gifts us with humility that comes from realising that we are truly not alone in this journey of life. There are others in our midst that are in need of the same healing that we seek.
Corporate Guidance
Corporate guidance is the act of allowing someone else to speak into your life and guide you to lead a life that is ever more pleasing to God. Authenticity is demonstrated through this spiritual discipline when it truthfully expresses that there is trust within the members of the community.
When we honour and respect the council of others in the community, members grow in trust for and dependence on each other, such that we are always looking out for one another.
With time, corporate guidance counteracts the notion that spirituality is exclusively an individual and personal experience; there is corporate spirituality!
Corporate Celebration
Rejoice in the Lord always; again I will say, rejoice. (Philippians 4:4 ESV)
Too often, many of us sometimes find it hard to celebrate the success of others because deep down, we are envious. Or we think that the person is undeserving of his success. Perhaps it is because we have an ingrained streak of competitiveness or a tendency to compare with our neighbours.
As a competitive person myself, I know all too well how bittersweet it can be to celebrate the successes of those around me. I think about those occasions when my friends got back grades that were way better than they, or even I, expected, and I wondered why I did not do as well as they had.
To that, Dr Wee reminds us that we can only genuinely celebrate with others when we are willing to be generous.
In corporate confession, the authentic Christian community experiences failures together. In the same way, we should also rejoice and celebrate together, for spiritual strength comes to the community as it is bound more tightly together in joyous occasions.
If one is unwilling to rejoice with another who has received blessings or success, it is very unlikely that they themselves will experience that joy, which is unfortunate. That joy will only come when we are willing to let go and see others doing better than we are. This probably takes practice, and I hope that I can stretch my celebration muscle and be more wholehearted in my joy for others.