Praise God that in Him, life as a senior is full of new experiences and never a dull existence. It can be a time filled with confidence, praise and hope even despite the inevitable difficulties and challenges we face as we age.
Our strength and vigour come from Him who will mount us up with wings as eagles (Isaiah 40:30-31) and who will cause us to flourish and bear fruit in old age (Psalm 92:12-15).
We praise and thank God that He has brought the KKMC seniors through the last two pandemic years and taught us new perspectives about worship, fellowship, witness, and most of all, how to trust and depend on Him in the most uncertain of times.
Together Again…
Seniors Fellowship
Thank God for helping us to transition from Zoom fellowships to in-person activities.
The fellowship sessions served as a useful platform to enable the seniors to stay connected with one another and as equipping sessions in KKMC's year of Bold Witness.
When the pandemic situation in Singapore permitted us to resume large group in-person activities, many eagerly signed up for our Learning Day Trips (which included outdoor activities and learning sessions).
In May, we went to the Botanic Gardens and Trinity Theological College on a Methodist heritage trail and in July we went to Sungei Buloh Wetland Park to learn about prayer.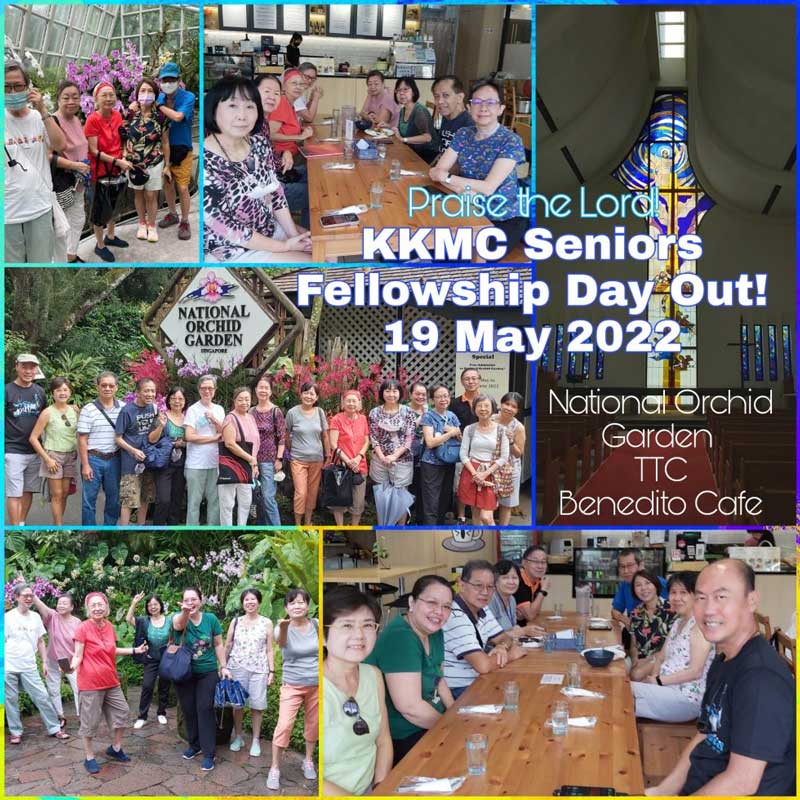 The prayer theme carried through to August with the screening of the film "War Room" at the Social Hall. The 2015 Christian movie focuses on the power of prayer while telling a relatable story about a young family in crisis.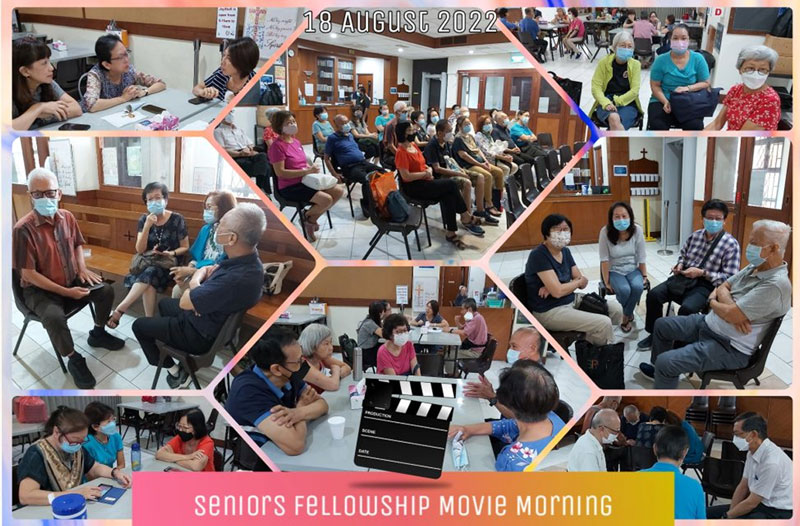 A significant number of seniors also volunteered in the church's outreach activities such as Project 5 Loaves & 2 Fishes and Alpha.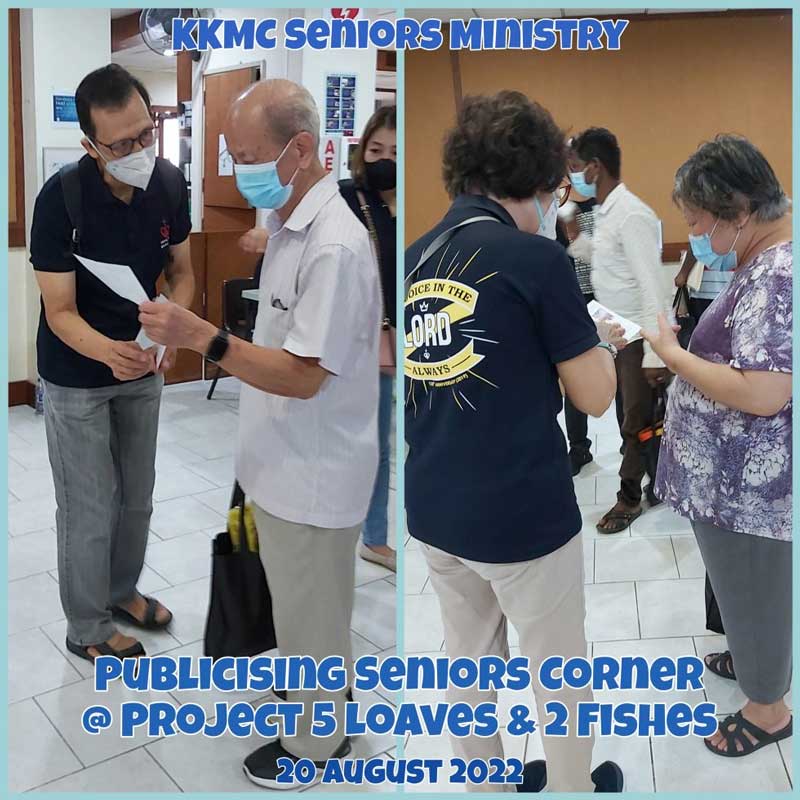 Seniors Corner
The Seniors Corner sessions which were suspended in February 2020 due to Covid-19 restrictions resumed in April 2022. Thank God for raising a new group of volunteers including a few from the Mandarin Ministry and Seniors Corner participants. Praise God for bringing back 30 to 40 seniors from the neighbourhood to join in the regular Friday morning exercises and games at the Seniors Corner. We are praying for a deeper engagement with them and for opportunities to point them to Jesus Christ.
Thank God too for opening up the way for us to have a joint session of Seniors Corner participants with the KKMC seniors. A decoupage class (the art of decorating an object by glueing coloured paper on it) conducted on 25 September 2022 attracted an astonishing attendance of 75 participants. Pastor Kay Leong, in keeping with the season of the mid-autumn festival, shared life lessons of the God who created the sun, moon and stars and His love and care for His creation.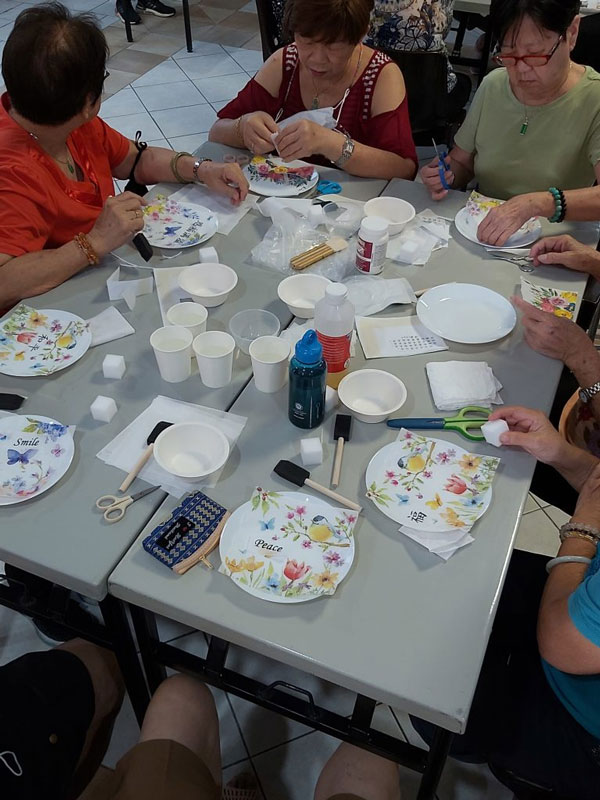 Growing a Deeper Life in Christ Together
We thank God for giving us the time and resources in this "senior" season to savour and enjoy the things we missed in earlier years. But eventually, we must balance our perspective that beyond the joy and blessings in daily life, the very reason for our being is to glorify God. In Psalm 27, the psalmist says:
One thing I ask from the Lord, this only do I seek: that I may dwell in the house of the Lord all the days of my life, to gaze on the beauty of the Lord and to seek him in his temple.

– Psalm 27:4
Being in God's presence guides our daily life, our life's purpose and gives us certainty of our eternal hope. Only Christ can bring us into that life that truly satisfies. Only He can give us sufficiency even when our minds and bodies are frail.
We invite you, both young and old, to journey with us in the Seniors Ministry – with opportunities to learn how to grow in the Lord, to fellowship and support one another, to serve and to share Christ's love with those around us.
We place our trust in the Lord that in our willingness to be more intentional and intimate with Him, we are renewed in mind and spirit – a life in God that is vibrant, victorious, marked by His grace, power and glory!
Come and talk to us:
Seniors Ministry (including Seniors Corner): Elaine Ang, Goh Poh Gek, Corinne Tan, Patrick Tan.
Seniors Corner: Chew Ai Lin
Pastoral Overseer: Rev Tay Kay Leong
Pastoral Team representative (Seniors Corner): Vincent Lim