Kampong Kapor Women's Society for Christian Service (WSCS) organised a guided silent retreat on 27 to 28 December 2022. The theme was "Behold, the Presence of God!". In this article, we share reflections gleaned from our quiet time with the Lord and with each other.
The few days between Christmas and New Year is always a busy time. To attend the retreat, we had to set aside some things for two days: family commitments, work e-mails, pets, social gatherings and our mobile phones clamouring for our attention, just to name a few.
Cultivating Stillness
"He says: "Be still, and know that I am God…" (Psalm 46:10)
The simple environment at the retreat centre and the guidance of our retreat director Ang Gim Har helped us find our own ways of quieting ourselves before the Lord. We were reminded of how Jesus took private time and space in the early morning to pray (Mark 1:35). We, too, sought a sense of stillness as we waited to learn more from God's Word and to commune with Him. Seow Boon Quey shared her poetry that describes a quiet joy from being still before God:
"Being absent from people and things
Just sitting at your feet brings
Such delight as the cool wind breezes by
As I sit at the hillside receiving Your light…"
Considering Christ
"The Word became flesh and made His dwelling among us…" (John 1:14)
In our fast-paced lives, it is easy to lose the deeper meaning of Christmas. We read Luke 2 and recalled the birth of Jesus, the Saviour, who came down to earth as a baby, born in a humble manger. We read John 1 and pondered Jesus as our light, our life, and His dwelling in our hearts when we received Him as our personal Lord and Saviour.
Eugenia Chioang shared a picture and caption of a precious reminder of how Christ's presence is not merely a theoretical understanding but a personal companionship.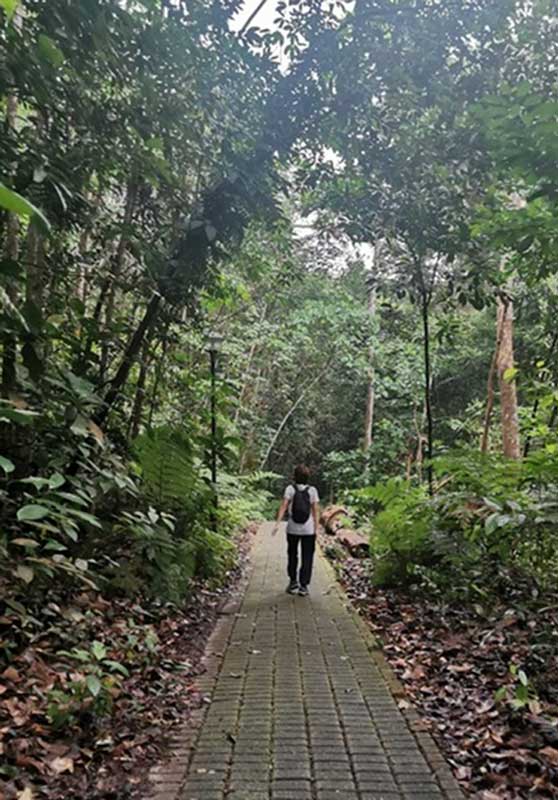 Created for God
"… See how the flowers of the field grow. They do not labour or spin…" (Matthew 6:28)
With a refreshed understanding of God, we took a nature walk the next morning and reflected on God's creation and our place in His world. We admired the beautiful flowers and birds, the morning light, and considered how each of us are an integral and irreplaceable part of God's creation. Two retreatants shared lovely, thoughtful poems inspired by the walk. Both writings are full of the joyful freedom and freshness that we experience as we find our identity in God.
If I..
(Poem by Elaine Ang)
If I could be
Like the bird in the sky
Swooping among the trees
Diving for the worm
If I could be
Like the blossom on the plant
Bobbing in the breeze
Preening in the sunlight
If I could climb that mountain
With feet of a deer…
Came the reply:
Who caged you?
Who said you are not beautiful?
Who has made you lame?
I have set you free.
So fly.
I created you and it was very good
So shine.
I have given you my power and strength.
So leap and run.
Born of God
(Poem by Seow Boon Quey)
Created to live, oh the glory of life
Created to eat, oh the glory of taste
Created to breathe, oh the glory of sweet air
Created to laugh, oh the glory of joy
Created to cry, oh the glory of compassion and pain
Created to move, oh the glory of mobility and freedom
Created to sleep, oh the glory of rest and restoration
Created to pray, oh the glory of humility and the power of the Holy Spirit
Created to love, oh the glory of a loving God
Created to be light, oh the glory of overcoming darkness
Created to be worthy, oh the glory of being born of God and being known by Him
Oh Lord, glory to Your name!
Confident Hope
"but those who hope in the Lord will renew their strength…" (Isaiah 40:31)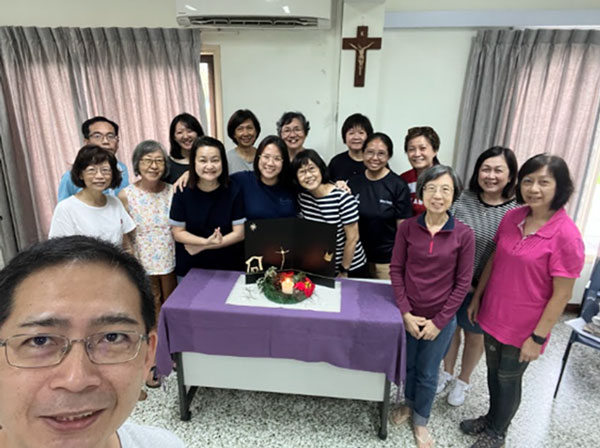 As the retreat drew to a close, our hearts were full of hope, renewal and expectation in the Lord for the coming year. A snapshot by Kelvin captures our refreshed spirits: we are thankful for the time spent in God's presence and learning in community over the two days together.