On average, we spend about a third of our lives at work. We also spend a substantial amount of our formative years in school. It is unsurprising then that questions about work and study abound: Why work when it is so hard? Why study when it may not be what I wish to do? What can I do if I dislike my career? The Young Adults Ministry tell us how a recent seminar series on this topic revealed God's truths about work and study.
Seeing as most of our working or studying KKMC Young Adults (YA) could have such questions, the YA Working Group decided to launch a three-part YA KKonnect series on 'Seeing God in Work and Study'. Over three Zoom sessions from May to July, the series aimed to share biblical perspectives on pressing questions about work and study. We also wanted to create space for YAs to connect over shared work/study experiences, and for YAs to hear from older church members who may have insights to share.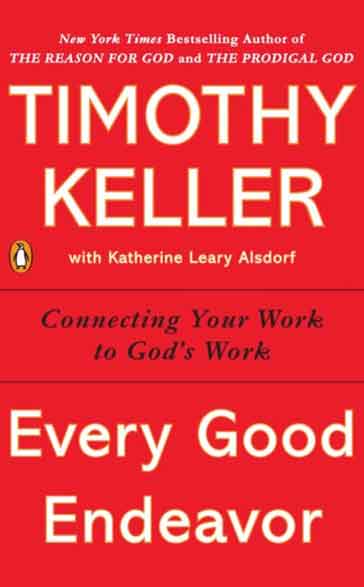 We chose to use Timothy Keller's book on the Christian view of work – Every Good Endeavour – to anchor the series. Each session would thus cover a third of the book's main content:
The first session on God's Design for Work/Study saw YAs explore how God first created all work to be good – no task is too small a vessel to hold the immense dignity of work given by God. God has called us to be His stewards to continue His work. Thus, work is a means to serve God, love others and cultivate His culture.
The second session then delved into why work was so difficult if God made it to be good. With sin corrupting God's design for work, work can become fruitless, pointless and selfish. Work thus also reveals idols in our lives, such as our misplaced desires for power, money and others' approval. However, by rooting our identity first in Christ, we can look to God's good purposes for more inspired and faithful work.
The third session concluded with how the Gospel grants us a new narrative for our work and study. The Biblical narrative asserts that worldly narratives (e.g. achieving success at work to earn more money is the main goal in life) will not provide the purpose we seek in our lives. Instead, we require God to point us to a fulfilling life and career. We can rely on God's compass to make better decisions, find true rest in God from our work and study burdens, draw upon God's power to serve Him with zeal.
To encourage peer sharing within the YA community, we invited two YAs per session to conduct the sharing. Supported by the YA Working Group, they would read relevant chapters from the book and translate them into a 40 min sharing. Preparation was not easy, as the sharing had to be applicable for working YAs, studying YAs, and YAs still on the job hunt. Dora Tay, a YA who conducted the second session, shared: "Although it was slightly daunting at the beginning, I am very thankful to the YA committee who walked together with me to dissect and ruminate on the parts of the book that I was supposed to share. It was truly an enriching experience for me as I was able to experience both being a speaker and a participant!"
We also invited six adult facilitators to journey with the YAs over the three sessions. The adult facilitators led deeper discussions with the YAs in small groups and shared their own experiences of how God had been faithful to them in their work or studying days. As the facilitators were new to many of our YA participants, leading these discussions was challenging! Karen Tan, one of the adult facilitators, shared: "Being a facilitator for this series was nerve-wracking, but it was also a humbling experience that God is always in control. And that He loves His young adults too much to let me (the inadequate facilitator) mess them up."
Despite our adult facilitators' fears, the YAs appreciated the experience the adult facilitators brought to the discussion. Dora reflected: "The series really helped me gain clarity and Christian perspectives on work through the presentations and from the older, more experienced adults in the small groups during discussion."
Ariel Lam, a YA from Mandarin Ministry, similarly commented on how the small group discussions were helpful. "My takeaway is that God is our biggest Boss, and we should constantly seek to glorify Him even in our workplace and learn to trust that the rest will just fall in place. I also find it helpful that during the group interaction time, we can encourage one another and share experiences. I am definitely looking forward to more of such sessions in the future on how to glorify God at work, as most of us do spend a huge part of our lives at work."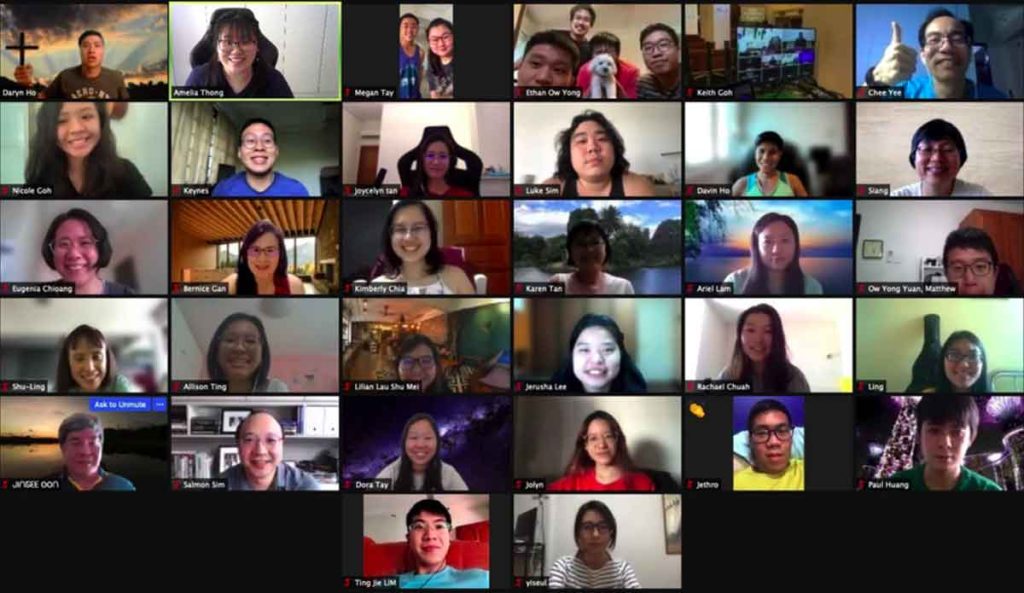 Karen further reflected on the group discussions: "A YA KKONNECT series based on a book is not like a book club where participants gather to drink kopi and discuss plot, characters and ideas. Instead, there was a lot of honest, open sharing of how we all struggle to be authentic Christians living out the biblical narrative in workplaces that may have a different narrative, or even be hostile to that narrative. What was really encouraging though, was also young adults encouraging other young adults by sharing how God provides guidance and protection, how He honours those who honour Him, and practical tips on dealing with various work situations."
Lydia Pan, a YA, also shared how the series helped her gain a fresh perspective on work. "My greatest takeaway is that God has called each one of us to the roles he has assigned to us. No one's calling is greater than another, because through doing our jobs well, we are all contributing to the cultivation and development of God's creation."
As we made plans each month, the YA Working Group was concerned that we would not have the people: suitable adult facilitators, YAs who could prepare, and even enough YA participants. But God provided for each session willing hearts, with about 30 YAs attending each session. We were also worried that stretching the sessions over three months may not engage our busy YAs. But God also showed us that our worries were unfounded, with the various takeaways that the YAs had from the sessions.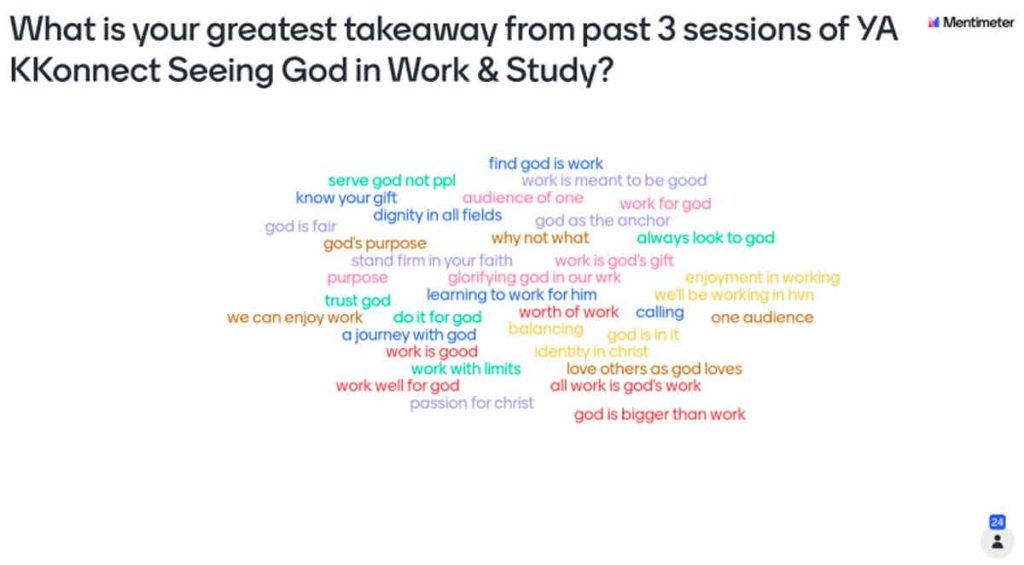 As Tim Keller writes in Every Good Endeavour, "If the God of the Bible exists, and there is a True Reality beneath and behind this one, and this life is not the only life, then every good endeavour, even the simplest ones, pursued in response to God's calling, can matter forever." Our prayer is for YAs to take hold of this True Reality, wrestle with living out our faith in work and study, and find in God the passion for serving Him in all we do.
Interested in connecting more with the KKMC Young Adults Ministry? Contact Ms Chern Siang Ling at siangling@kkmc.org.sg