Rev. Anthony Phua with his wife Serene and son, Asher
Find out how Reverend Anthony Phua came to Christ in our first interview with him.
Now that congregational worship as we knew it has been suspended due to Covid-19, most KKMC activities take place online. When people do meet, such as during the Devotional Service of Prayer, numbers are limited for safety. While the church has adjusted to these changes, this might be considered a daunting time for a new pastor to join a church. How will he meet his flock?
We chatted with Pastor Anthony Phua, who shared that God prepared him through life experiences and assurances, and the same God will help him adjust to his new role in KKMC.
Welcome to KKMC, Pastor Anthony. Could you tell us about yourself?
My wife, Serene and I are proud parents to an 8-month-old boy, Asher. My older brother, Jason, is also a pastor. He serves at Pentecost Methodist Church.
How did you become a Christian?
My parents practiced Buddhism and Taoism but despite being non-Christians, they sent me to St. Andrew's Secondary School, probably because they recognised the positive values associated with Christian schools. My mother told me that I could attend chapel while at school, but I was not to convert to Christianity. Wisely, she said I was free to choose my faith when I turned 21. At age 21, my good friend led me to Christ.
At that time, I felt anxious because I was not sure how my parents would react. I knew they were uncomfortable with my decision but they did not openly express it. I was also worried my parents would face pressure from our non-Christian extended family when I became a Christian. Yet, as I was about to receive Jesus, I felt a sense of peace which enabled me to proceed knowing that God was with me. Later, I prayed to ask God what that peace was. He gave me a verse, John 14:27 which says, "Peace I leave with you; my peace I give you. I do not give to you as the world gives. Do not let your hearts be troubled and do not be afraid."
Today, both my parents are believers. My brother, Jason, and I don't know for sure what made my parents decide to receive Christ but we know that God is at work in our family. In His mysterious ways, He led my parents to Him. We had the privilege of baptising our father earlier this year when he was critically ill. Thank God for leading him to recovery after that.
Could you share your journey to becoming a pastor?
It's a long journey that showed God's goodness throughout. I did not complete my university engineering course because of financial issues. So I gave math tuition to support myself and my retired parents. Initially, I had very few students and it was difficult to earn enough. I asked God if that was a sign for me to stop tutoring. Then, with the help of referrals, the number of students I taught grew and I was finally earning enough to support my family.
But this increase in work meant that I worked long hours, including weekends. I stopped attending church regularly. One day, I received a call from the church I was attending. They offered me a full-time position as an administrator working with the hearing-impaired. I have a passion for the hearing-impaired as I had worked with them since I became a Christian. Still, I hesitated. I consulted my non-Christian friends who told me to take the job. My mother told me to stop working as a tutor, and that was when I admitted to her that I had been offered a job with the church. She encouraged me to accept it and I saw all this as confirmation that this was God's plan for me.
In my new job, I performed administrative functions while a hearing-impaired colleague did the outreach work using sign language. Around that time, there was a shift in how the hearing-impaired in Singapore were helped. We found that there was an increasing number of hearing-impaired children who were encouraged to hear and speak with various interventions, instead of learning to use sign language. As a result, my colleague was unable to communicate well with this new generation of hearing-impaired people who did not use sign language as much.
I saw this as a kairos moment for me to step in and reach out to them instead. With God's help, I was actively involved in outreach and shepherding work. But I felt inadequate in my role and this was when God led me to begin my theological studies in 2012.
During my theological studies, God impressed on me to enjoy my studies and trust Him with my family and my career. I learned that God has His way of bringing you closer to Him when you choose to obey Him.
How did you meet your wife, Serene?
We first met as teenagers but the spark only happened when a mutual friend brought us together later. Before we decided to start dating, I told her of my intention to go into full-time ministry work eventually. I had prayed beforehand and God gave me the peace to ask her to be my girlfriend. Thankfully, she was supportive of my calling. I was actually more nervous that she might reject me for other reasons!
We got married when I was in my first year at Trinity Theological College and had no income. We prayed and God opened the way for us to marry that year. This came in the form of many gradual steps, with each step requiring us to take that first step of faith. One significant sign of God's provision was the way He opened the way for us to take the marriage preparation course. Serene's job as cabin crew made it very difficult for her to commit to attending a weekly course for 10 weeks. It was humanly impossible but God made it possible and after we signed up for the course in faith, she was able to attend 9 out of 10 weeks.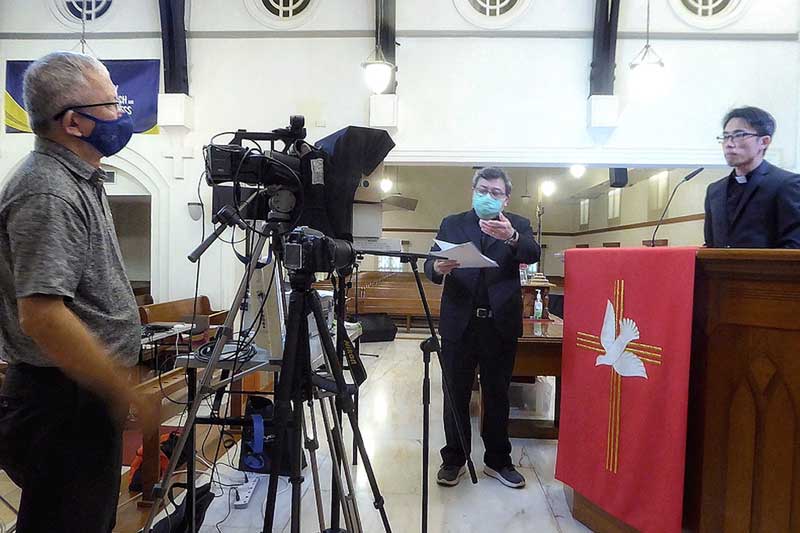 Name 3 things that you learned after you became a father.
I learned how to change a diaper. It's getting more difficult now because Asher is wriggling more.
I learned how to support my wife in many ways as she takes on the demanding role of a mother. This includes offering emotional support and taking turns to wake up in the middle of the night for Asher.
I learned that the bond I developed with Asher was stronger than I expected. I will miss him when I have to return to the office to work.
How did you spend your time during the circuit breaker?
I worked from home with the help of Zoom meetings. What free time I had was spent with Asher. I could focus on preparing sermons only after he went to bed. Serene is a cabin crew member and she is unable to fly now because of Covid-19. This is a blessing in disguise as we can now stay at home as a family and observe Asher achieve his developmental milestones. He is crawling actively at 8 months and he might start walking early at the rate he's going!
What is your favourite food?
Fish. Steamed fish. Fish soup. It must be because I'm Teochew that I like to eat fish so much.
Do you have any hobbies?
Soccer. I support Arsenal.
Kopi or teh? Hot or cold? Sweet or siu dai?
Kopi. Hot. Siu dai.
Thank you, Pastor Anthony. When regular services resume, you might find church members looking for you to have fish soup and kopi siu dai. Once again, we warmly welcome you and your family to KKMC!