Weekly YA Hangout publicity, with layout design by Amelia Thong
How did KKMC's Young Adult community go from meeting up once in two months to regularly meeting thrice a week? Read on to find out more about how the Young Adults community adapted to a new normal for ministry due to Covid-19.
With our plans for in-person gatherings suspended due to Covid-19 safety measures, the Young Adults (YA) Working Group was challenged to create new online platforms to minister to young adults in this season. We wanted to provide young adults with the platform to continue to grow in faith, connect in fellowship, and bear fruit for the Lord even while staying home.
God has provided all of the abovementioned and more. The YA community has met more frequently in this season than when in-person church services were going on: during the Circuit Breaker, our weekly YA Hangouts were held over Zoom on Tuesday nights, Thursday nights, and Sunday mornings! We have been blessed with joy and laughter during these sessions, especially during the Thursday sessions where online board games and Zoom karaoke are some of the regular activities.
We have shed tears, shared fears, and encouraged one another through heart-to-heart talks.
We have also been able to connect with YAs who were not plugged into the community before, and even welcomed YAs from outside the KKMC community. One of our YAs also shared that such online gatherings also gave them opportunities to meet people that she had never gotten to speak to before in church: while physically apart, the consistent gatherings online have helped close the relational gap between YAs.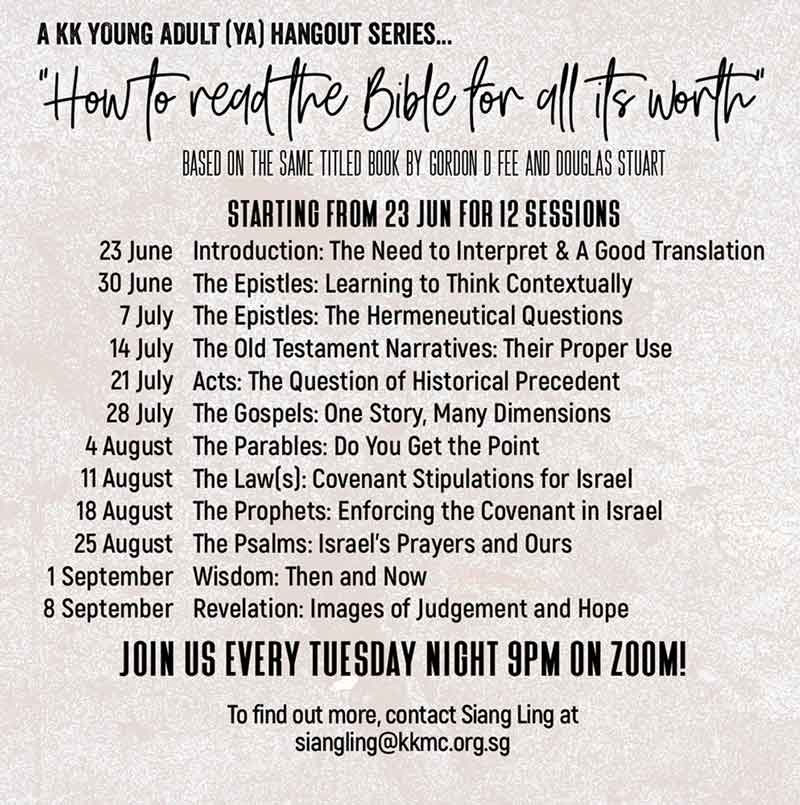 The YA Working Group also followed God's leading to provide our YAs with the tools and opportunities to learn and love God's Word. This is done by intentionally involving different YAs in teaching the Word: such as by leading devotionals or facilitating a discussion on the sermon's Scripture text for the week. It was the first time doing so for some of these YAs, and we thank God for opening their hearts to be willing to try. A helpful visual summary of the Tuesday and Sunday YA Hangouts' main takeaways is also created and shared with the community via Whatsapp. Through these initiatives, we pray that God will stir the hearts of the YAs to be serious about studying His Word, and for His Word to transform their lives.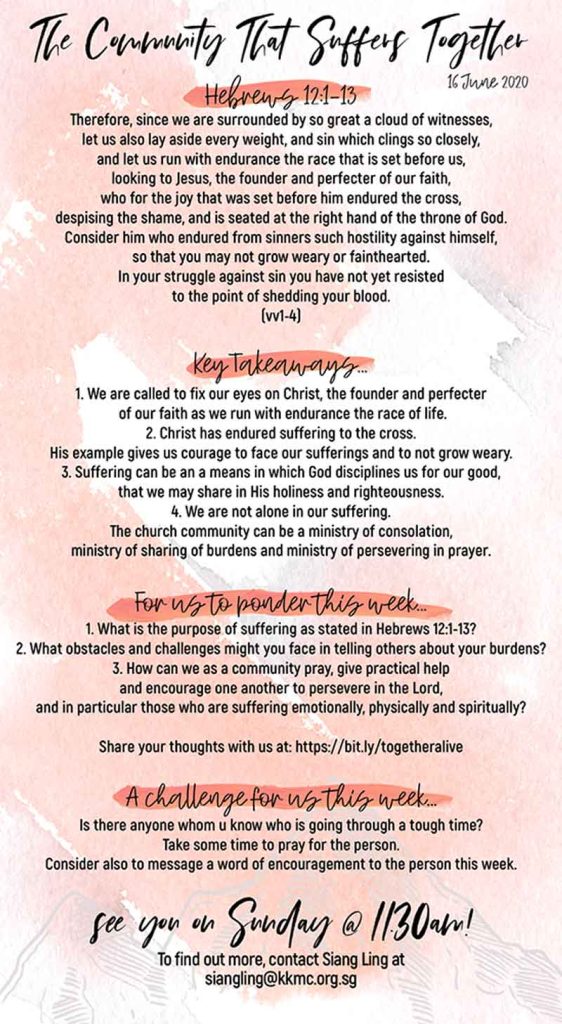 We were also pleasantly surprised by the YA community's interest in learning more about church history. With our usual YA KKonnect session being postponed, we decided to host a YA Webinar instead to meet the interests of the YAs and to grow their faith. We invited Rev Dr Chiang Ming Shun, Pastor attached to Ang Mo Kio Methodist Church and lecturer of church history at Trinity Theological College, to share more on the Reformation: both the life and times of Martin Luther, and the socio-political context of the 1500s. The YAs who attended (and a few "young at heart" older adults who helped facilitate group discussions) walked away with a deeper understanding of the implications of this historical movement for the Protestant faith, and an encouragement that God works throughout history for His good.
Are you a young adult and interested in joining the KKMC's Young Adults Community? Do drop an email to Siang Ling at siangling@kkmc.org.sg – we would love to welcome you!