Making exams worth it 😛
A recent initiative by the Youth 3s to show care to their peers and those taking national exams this year.
During one of the Youth 3's biweekly games nights, the low attendance spurred the youth to find another way to encourage their peers during the pandemic and upcoming exams. They settled on care packages as a project that could be carried out given Covid-19 restrictions. The Y3s wanted to reach out to their peers, and the Y4s and Y6s who were taking their O-level and A-level examinations respectively. Parents of the Y3s chipped in to buy the gifts. Each package contained snacks for late night studying, a note of encouragement, and a personalized face mask handmade by a parent. As the Y3s were studying for their exams, the Y3 packages were put together and delivered by the youth leaders. The Y4 and Y6 packages were put together by the Y3s after their exams.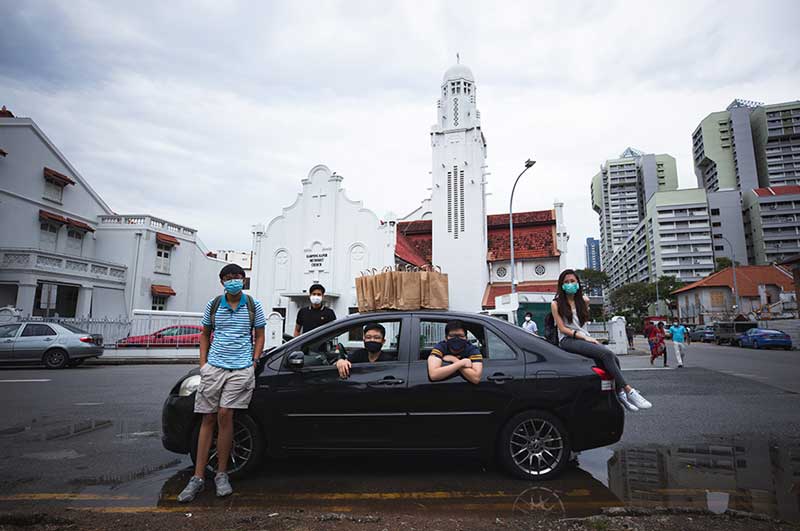 Some reflections…
The distribution of the welfare pack was an enjoyable experience as I was able to meet church members I had not met in a while. The packs were able to lighten the mood of the recipients and brighten their day, as they pressed on with their revision. I think that the welfare packs were an excellent idea to help fellow youths de-stress from exam preparation. It also provided a means for the youths to feel that they are part of an authentic community, that the Youth Ministry and its members are looking out for them.
– Kendrick Seah (Y3)
This idea came about when Joycelyn decided that we should do something for the community, starting with something small to cheer the Y4s and Y6s on for their O-levels and A-levels. Many items were food for eating while studying, and there were scented candles (for the girls only) to help relieve stress. As this is my first year in the Youth Ministry, it was fun to see how bonded everyone is as well as how thoughtful and warm everyone is, to be able to think of encouraging one another and building each other up by simple means such as giving a welfare pack to those sitting for their important examinations.
– Dawn Yam (Y3)
Throughout the Covid-19 Pandemic, being physically distant from the Church and the Youth Ministry led me to feel unsatisfied and incomplete both emotionally and spiritually despite meeting online. I grew tired of staring at a screen and began to dread attending these online sessions. I remember it was a Sunday night, Kegan and I had planned to do Bible study, but when he showed up, Joycelyn was with him and they invited me to deliver the packs with them. I eagerly accepted the invitation. We drove around and I got to see the faces of my Life Group members in real life rather than as pixels on a screen, although they were behind masks. And though I didn't show it at the time, it brought me joy to talk to them and a sense of community I hadn't felt in a long time. I readily agreed to join the Y3s for another round of deliveries, most of which were made on foot.
– Jared Lim (Y4)
What did the recipients say?
I love them lots and can't wait to see them soon! – Jon (Y6)
I am grateful 👍 – Josiah (Y6)
Thank you for going out of your way to deliver the packs to the Y3s 😊 – Elliot (Y3)