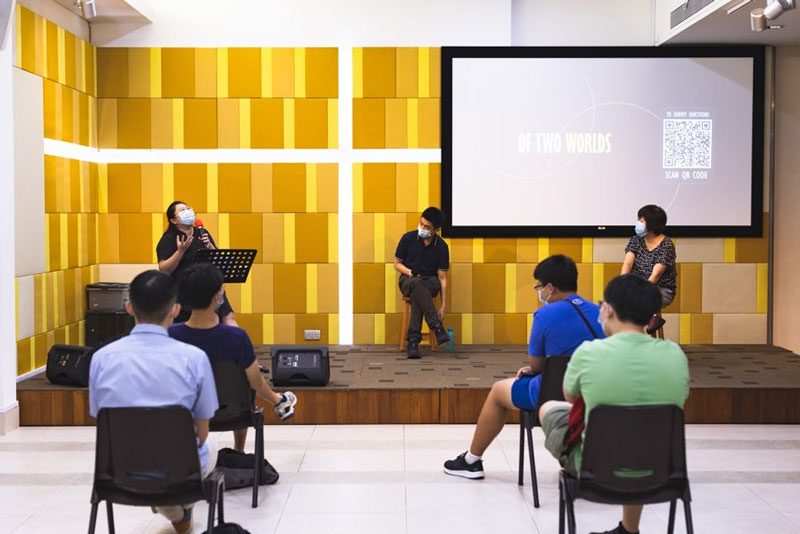 On 24 Oct 2021, the third instalment of Of Two Worlds focused on the healthcare sector. For Jane Long and Darius Pan, a senior nurse and junior doctor, their vocations are both stressful and rewarding at the same time, and understanding God's hand in their field is a deliberate act of taking on the cross daily.
Choosing the healthcare sector was not on their minds
For Jane Long and Darius Pan, choosing their current vocation was not something they knew they wanted to pursue from a young age.
In school, Darius had been interested in economics and even thought a uniformed career looked interesting. However, he took on pure science subjects in Junior College only after speaking to an someone older in church who was doing med school.
As a teen, Jane was accompanying her friend to pick up an application form to be a nurse when it occurred to her that she should sign up as well. Her father remarked disdainfully that nursing was a 'dirty job'. After a big argument with him, she decided to embark on a nursing career as an act of rebellion against him.
Today, as a junior A&E doctor, and a senior nurse in a nursing home, Darius and Jane find their jobs rewarding and stressful at the same time, but have no regrets choosing their vocations.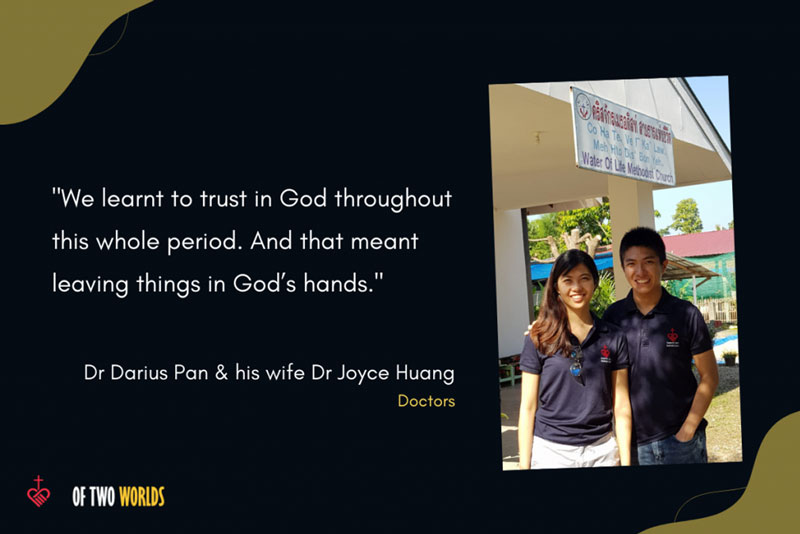 Working at the frontlines of the pandemic
At NUH's A&E department, Darius was put on duty at the 'fever post' over the first four days of Chinese New Year last year, when Covid-19 reached Singapore's shores. The hospital received many mainland Chinese patients with fever who suspected they might have contracted the Covid-19 virus. He was thankful to be positioned there as many of his colleagues were not conversant in Mandarin.
Weeks later, when the outbreak reached the foreign worker dormitories, he recalled, "The dormitory operators would send their workers to the hospitals by the lorryloads. Our patient load went up really high. There would be days when one lorry could unload 30 to 50 migrant workers each time… Imagine being only one of two doctors handling them."
It was tempting to process the long line of patients quickly and efficiently. "You can actually do it very fast – in one day, you can do 30 swabs, give them the Panadol, the cough syrup, and then send them off. And (you want to) limit your own contact as well because at that time we were also worried about contracting the virus ourselves," Darius said.
However he felt God challenging him to treat each one as an individual. He thus took it upon himself to address them by their names, rather than simply 'brother'. He also made time to listen patiently when they shared their worries about their illness.
On the home front, Darius had additional worries. His wife, also a doctor, was working at the National Centre for Infectious Diseases, and she had just become pregnant with their first child. "We learnt to trust in God throughout this whole period. And that meant leaving things in God's hands," said Darius. God answered their prayers when their baby was born healthy.
Jane described this season of her work in Singapore Christian Home (SCH) as one with a multitude of changes and increasing busyness. When international borders were closed, a number of foreign nurses returned to their home countries, increasing the strain on the remaining staff. Later on, volunteers and family members were not allowed visits which had an impact on the patients' morale.
The staff sought to quell their patients' loneliness. "We have to make life more interesting for the patients. We provide video calls, and spend more time talking to them. A lot of them cannot see or hear well. A lot also are not used to being expressive over the phone or video call," said Jane.
It has been an uphill task as the work carries on amidst increasing and changing measures from Ministry of Health, like wearing gowns and masks, zoning of workplaces, and the increased ART/ PCR tests for monitoring.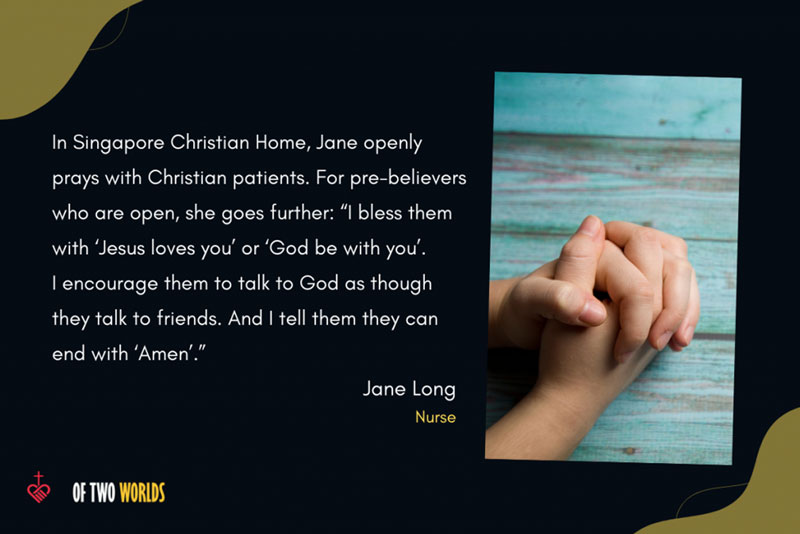 Dealing with death
Though a senior nurse, Jane is not exempted from emotions when a patient passes on. They can range from sadness for a life lost, to relief that the patients' body is no longer covered in tubes. Sometimes, she experiences a nagging guilt that perhaps not all means had been fully exhausted. Family members' reactions also affect her response.
In secular hospitals, healthcare workers are not allowed to evangelise. But in SCH, Jane openly prays with Christian patients. For pre-believers who are open, she goes further: "I bless them with 'Jesus loves you' or 'God be with you'. I encourage them to talk to God as though they talk to friends. And I tell them they can end with 'Amen'."
To others who are not open, she is careful to not come across as being forceful about her faith.
Jane has found journeying with patients through their critical illness a meaningful endeavour, especially when she sees them gradually coming to terms with their mortality.
For Darius, death is an everyday occurrence. He resists being desensitised to it, reminding himself to see each patient and each family as if he were encountering death for the first time.
But on occasions when families have to be told that nothing more can be done to save their loved one's life, he has slipped into the conversation that "everything is in God's control" – and he says, even non-Christians have found comfort in that statement.
Working with hierarchy and in teams
Darius acknowledges that in this sector, hierarchy and well-defined roles are necessary for a clear decision-making process.
At the same time, teamwork is critical, as is listening to experienced colleagues who may be lower in the hierarchy. Darius said: "In the A&E we have to work together with the nurses and also the pharmacists in order to help the patients. I have taken advice from senior nurses on ventilator settings, what meds to give. The nurses may have seen these patients for many times. They help me make the right decisions."
Jane agreed that a good working relationship between the staff is important. When staff are entrusted to do their job, there is less tension and more give and take, which eases work processes and makes shifts more enjoyable.
Handling conflict
There are always disagreements in the workplace, not just in the medical settings. However, being in an intense setting like the A&E department, friction is part and parcel of work:
"A lot of decisions have to be made very quickly. One's true nature does appear in highly stressful settings," Darius said.
"I find I need to take a step back rather than act solely on instincts, ask God how should I handle things? Sometimes the outcomes after I pray is quite different from my initial instinct."
Reflections and God's Promises to hold on to
Even if you don't end up working in the healthcare sector, these promises are worth remembering!
Medical technology has advanced, but we still cannot do everything. God is our creator. He is all-knowing and he has absolute control. We must remain humble and trust in him.
We have been created to function differently, for different purposes. No matter our roles, each of us is still a valuable member of the team. As part of the body of Christ, we must work together for His purpose.
Undergirding the work we do is the command to love God and love others. God gives us the ability to love wherever we go, no matter how stressful the circumstance. We are empowered to tap on this resource and put it to action.
---
Of Two Worlds session 4 will be on 14 November and will explore what loving outreach in the work place means. The seminar is open to all Youth and their parents. Zoom meeting details will be sent out via the Youth class chatgroups.
---
Read the other articles in the Of Two Worlds seminar series >