Our family is currently living in Claremont, a college town nestled in the foothills of the San Gabriel Mountains, near Los Angeles, California. We have three kids: Jin Kay (16), Lok Kay (13) and Ning Kay (9). Every two years, we balik kampung and look forward to reuniting with loved ones, especially our KKMC family, over good makan and durian!
Covid-19 has changed our lives dramatically. Our plans for a summer in Singapore were scuttled when we went into lockdown in mid-March. We have since remained in the highest COVID tier. Activities are limited: school remains online only; no sports, no recitals, no playdates. Curfews are in place and we may go into a full lockdown soon. However, Cheng Hang works for Amazon and continues to go to his workplace because he is considered an essential worker.
Our usual Christmas traditions will not happen: no visit from Grandpa, no vacation trips, no big feasts, no Christmas eve service at church. We will be spending a quiet Christmas at home, supporting local restaurants by buying take-out, participating in virtual church services.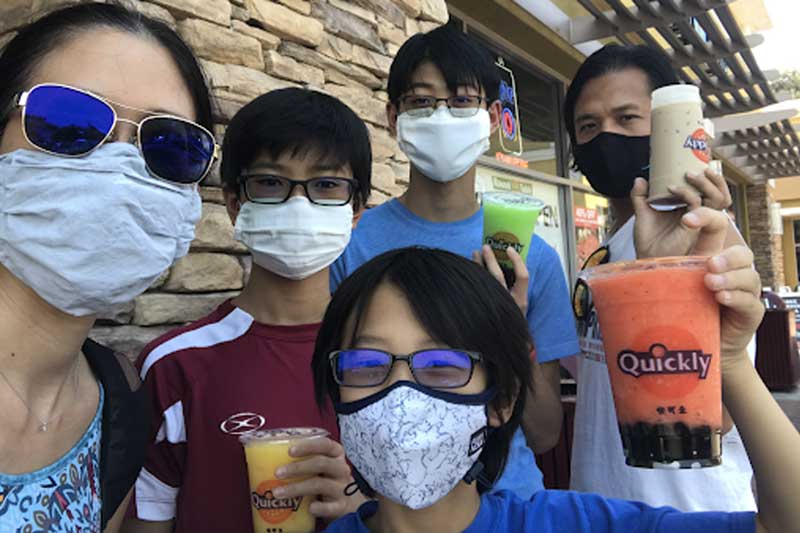 It has been a challenging time and we are exhausted by how long this has lasted. Yet, even during these dark times, the psalmists remind us that we should give thanks to Him and praise His name.
One of the bright lights has been that the kids have been able to reconnect with their KKMC friends through virtual Sunday School (which is Saturday evenings for us)! They will even be able to participate in the Youth Camp, which will start on Christmas evening for us. Praise God for technology that allows us to connect during this time of physical isolation! We are thinking of all of you back home and are eagerly anticipating our reunion, whenever that may be!
– Yio Su-San for the Teo family