Lee Hwee Ling, Captain of the 45th Girls' Brigade Company at Raffles Girls' School shares how the company coped with Covid-19 restrictions last year. Below is the the text of her report which was delivered on GB Sunday, 25 April 2021 at the 8am and 10am services.
Good morning Pastors, everyone at KKMC, my fellow officers and girls, I am so glad that we are able to meet each other face to face and be in church to worship God. I am Hwee Ling, captain of 45th GB Company in Raffles Girls' School and I am here today to present to you the Captain's Report for 2020.
2020 was an unprecedented year. Covid-19 resulted in lockdowns and closing of borders between countries and disruption of school. All of us in RGS had to adjust to new ways of learning and doing things. It wasn't easy at the beginning with many teething problems, but we thank God that He is in control and He is good. There are many things I want to thank God for in 2020.
The year started well in January with one of our largest recruitments with 22 Year One girls. I believe every girl has been chosen to be in the 45th Company for a greater purpose in their lives. As part of our service to the Braddell community, we invited the elderly in Xin Yuan Community Care in Toa Payoh to join us for the Chinese New Year Celebration lunch in RGS.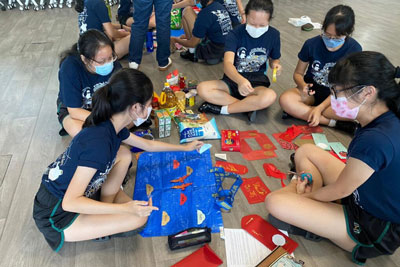 In March we were blessed to have completed our 2-day camp with good fun, bonding among the girls as well as many achieving their Stage 2 and 3 drill tests the day before the government suspended school-side activities due to Covid-19.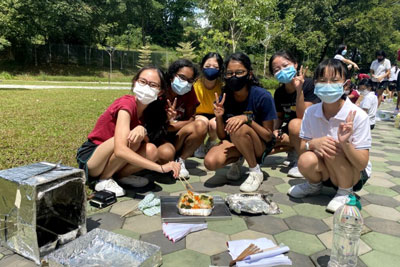 In April, when Circuit Breaker began, all our GB meetings were conducted online and our girls learnt to be very creative and deliberate in making use of online platforms to keep in touch and support each another. The Company played games, conducted workout sessions, organised squad challenges and squad time on Zoom. Even our Pipe Band conducted their practice online!
I thank God that despite the restrictions to meet face to face, our girls continued to serve fervently in the community by providing online tuition for children from low income families supported by Kampong Kapor Community Services. Similarly, even though key GBHQ events such as the National Drill competition, the Low Guat Tin Challenge, the Award Ceremony and the Southeast Asia Bagpipe Competition were cancelled, the girls remained committed and passionate in practising their drills, piping and drumming, and doing their badgework conscientiously.
By God's grace, the 45th Company continued to do well by clinching the Company Gold Award for the 9th consecutive year. Five of our Year 4 girls, namely Master Sergeant Terelyn Joy Leong, Annabel Faith Sekar, Teresa Grace Leong and Staff Sergeant Jamie Rusli, and Sergeant Neha Rajkumar were awarded the Pioneer Brigadier Brooch, the pinnacle award for GB girls who are excellent role models, self-disciplined and possess a spirit of excellence and servant-leadership. Congratulations to the girls.
2020 also saw the promotion of our first batch of girls to the rank of Master Staff -Sergeant. The 5 girls have served faithfully and contributed to the company. They have shown to be outstanding role models who demonstrated passion and commitment to Girls' Brigade. Congratulations to Master Sergeant Terelyn Joy Leong, Teresa Grace Leong, Deborah Chai, Megan-Ruth Tan and Annabel Faith Sekar.
The 45th Company could not have achieved much if not for God's favour and protection as well as prayers from everyone at KKMC. The generous church funding has enabled the company to hire instructors to teach our girls to play the pipes and drums in the Pipe Band and also take part in competitions. We hope that the Pipe Band, SHIRIM, which means Songs of Songs in Hebrew, can continue to bless the school and larger community with their beautiful songs.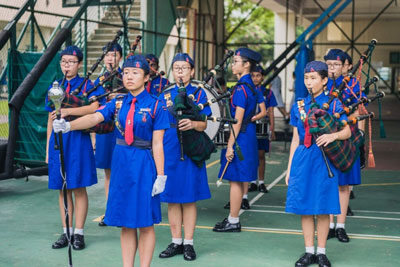 Today being GB Sunday, I would like to express my gratitude and thanks to many people who have served faithfully in 45th Company.
To my senior girls, thank you;
Judith and Hannah, who helped to mentor the Y5 Cell group;
Irene and Angeline who took time to to mentor the squad head and the Pipe Band.
To our dear sister Karen Bau from KKMC who is always ready to chaperone the girls when we have camps and even helping out with ad-hoc events at GBHQ.
Most of all, a big thank you to my co-labourers in 45th Company, Dr Sandra Tan, Ms Ling Shuang Ning and Ms Tiffany Cheong for their commitment and unwavering support. I know I couldn't have run the company without these ladies.
I pray that the Lord will continue to bless the works of our hands as we surrender ourselves to his service.
The 45th Company stands strong today with 80 members. We definitely need more hands to the plough. If you are looking for ways to serve the Lord, you may approach Dr Sandra to see how you can be involved.
On 20 May, we will be enrolling all 42 of our Year 1 and Year 2 in our Enrolment service to be held in RGS. My prayer for each girl is that they will find sisterly love in the fellowship with each other and most importantly, find the purpose that God has called them into.
Thank you everyone again for walking the journey with us. As we continue to serve , my daily prayer, from Ephesians 1:17, is "that the God of our Lord Jesus Christ will give to us the spirit of wisdom and relevation in the knowledge of him."
It is only when we seek God first and his Kingdom, that we can be good followers of Christ, our Captain.
Thank you and God Bless.