Why come for this retreat?
Today, we are confronted relentlessly with a myriad of changes and challenges in many fronts. As believers surely, we are not spared from the influence and impact of these challenges of our time. Hence, it is not uncommon for us to feel 'spent' from all the anxieties and fears that veer our attention from the LORD to the world. Moreover, it can be a conundrum to wonder upon our calling when the latter comes to a standstill even in the midst of many harried activities and commitments.
All the more, then, it is vital for us to carve out time and space intentionally, especially during the Christmas Season, to behold the presence of God in our lives and enter more deeply into communion with Him — unhurriedly, of course. In so doing, we let God come to us, to discern His way and choose life with the LORD in these unprecedented times.

This retreat is an invitation to an extended time alone with God. The 2-day-1 night retreat will help you deepen the vital spiritual disciplines of silence, solitude, Scripture reading, reflection and prayer. You will also be guided to recognise and respond to the revelation of God through His Word. An optional one to one spiritual direction will also be provided during the retreat.
Ms Ang Gim Har, Associate Spiritual Director, would guide the registrants and provide a retreat handbook for each registrant.
About our facilitator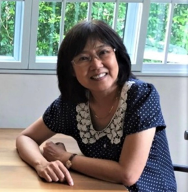 Gim Har holds a Master's Degree in Biblical Studies and a Master's Degree in Pastoral Counselling from Singapore Bible College. She was actively involved in overseas missions with Operation Mobilization as well as coordinating foreign missions work for the Singapore Baptist Convention. Upon completion of her theological studies, she served in different capacities as pastoral staff at two churches. She had also served as an Associate Spiritual Director at the Community for Spiritual Formation.
She has completed a two-year course for Spiritual Directors with the Spiritual Growth Ministries, New Zealand.
Retreat information
Dates: Tuesday to Wednesday, 27 to 28 Dec 2022
Venue: Lifesprings Canossian Spirituality Centre, 100 Jalan Merbok, Singapore 598454
Cost (inclusive of meals):
– $70 for a non air conditioned single room
– $80 for an air conditioned single room
(50% subsidy for WSCS members)
Who may register for this retreat: Anyone aged 21 and above may register. Young adults are welcome to attend.
Kindly note that after registration, participants will receive an email with payment instructions and other information about the retreat.
Organised by KKMC WSCS D&N, in collaboration with KKMC Prayer Ministry.
Registration is closed.